Weekday Sketchers at Hudson County Court House
Is three times a charm? We have been snowed out twice on this program. Hopefully it won't happen this time!!
There was a time when public buildings were grander than grand and were decorated to inspire the better angels in all of us. The Hudson County Court House is one of those places
Travel across the Hudson River and back in time to a gem hidden in plain sight. Located on a busy street, in a less than beautiful neighborhood, this building sits proudly on a small grassy knoll, reminding us of a time when Jersey City was a bit grander and bit shinier than it is now. (One could argue that along with NYC's Tammany Hall era, it was also a time of greater government corruption and suppression, but that's another discussion.)
We will explore the grand staircases, beautiful murals, and hopefully be able to sketch in the Board of Chosen Freeholders room, decorated with Howard Pyle's murals, depicting the early Dutch and English settlements in Hudson County.
Here is an article about the building and the restoration. https://jerseydigs.com/william-j-brennan-hudson-county-courthouse-history/
Freeholders Room w Howard Pyle Mural
DATE:
WEDNESDAY
MAY 9 2018
STARTING TIME: 10:30 AM
LOCATION: HUDSON COUNTY COURT HOUSE
595 Newark Ave, Jersey City, NJ
DIRECTION: Take the PATH to Journal Square. The courthouse is a short walk from the station.
When you exit the station turn right to the corner. Turn right again onto Pavonia Ave. Walk one long block and cross Summit Ave. Then turn left turn onto Central Ave. Walk one block to Newark Ave turn right and walk to the Hudson County Courthouse. Make sure you go to the Hudson County Court House (see picture above ) and not the modern building which is the Hudson County Administrative Offices.
(
Please note: for some reason the map program won't indicate the Hudson Co. Courthouse. It is pointing to the Admin. Blgd. Just walk past this to the Courthouse. You can't miss it! )
You can bring a stool and some lunch, or purchase lunch at one of the delis or fast food places along Newark Ave. You might want to bring some binoculars to see the murals a bit better.
Depending on time, interest and the weather, we can walk to Newark Avenue for lunch in "Little India". This unique and colorful neighborhood will offer us some interesting street scenes with some wonderful murals that have been painted on the sides of buildings.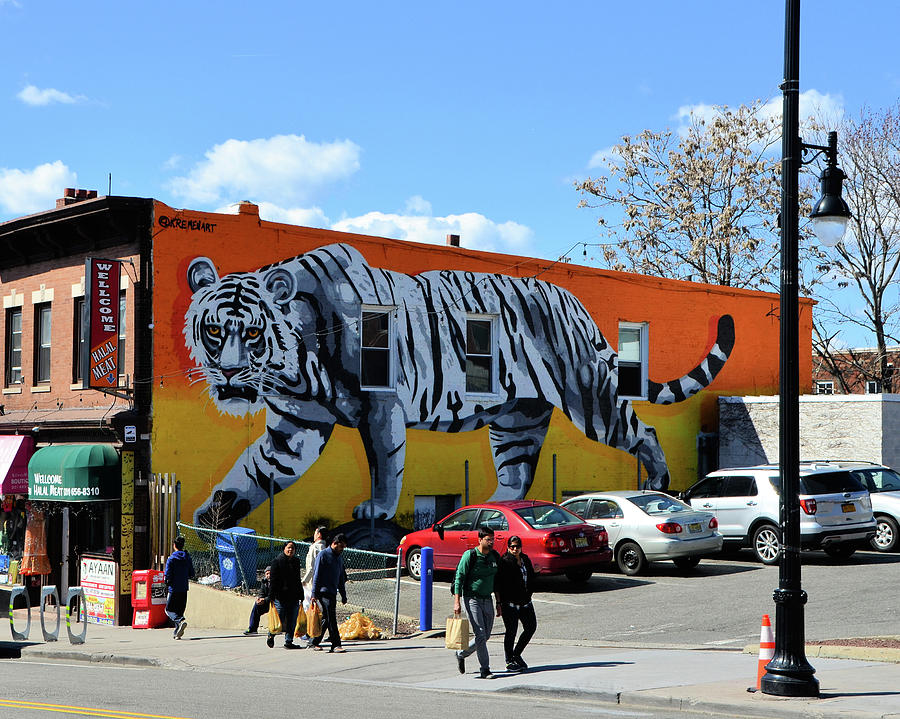 Please RSVP directly to Raylie Dunkel at raylie@verizon.net. Looking for us? Call/text Raylie at 201-978-6387