Weekday Sketchers at African Burial Grounds Museum
Our scheduled activity for this week to see the "Treasures" exhibit at the NY Public Library has to be postponed since the exhibit is temporarily closed.
The second choice for this week was to sketch the early blooming cherry trees. However, even though the calendar says spring the the weather is not conducive to outdoor sketching.
The African Burial Grounds will offer us an opportunity to sketch a wonderful indoor tribute to the Africans who were enslaved in NYC in colonial times, while affording us a chance to sketch the outdoor memorial, should the weather cooperate. An added bonus for afternoon sketching is to sketch the park on Foley Square with its beautiful cherry trees that are now in bloom.

The African
Burial grounds museum pays tribute the enslaved population in NYC and is the only known excavated burial ground in North America. In colonial times this area was an important crossroad of life and economic activity in New Amsterdam and then New York .
Join us for a deep dive into an important piece of NYC history.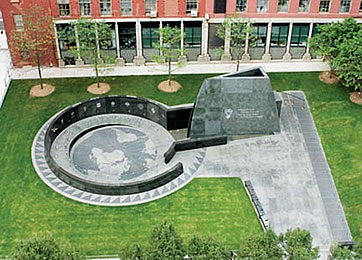 Cherry Blossoms in Lower Manhattan
Around the corner and adjacent to the United Sates Court of Federal Trade, is a wonderful pocket park on a small rise above the street. It is planted with a small grove of cherry trees that are now in bloom. Should the weather cooperate, we can have lunch in the park and spend some time in the afternoon sketching the beautiful blossoms.
DATE: WEDNESDAY MARCH 30, 2022
STARTING TIME: 10:30
LOCATION: AFRICAN BURIAL GROUD
290 BROADWAY
TRANSPORTATION: 1, 2, 3, A, C, J, Z, TO CHAMBERS ST. R, 4. 5. 6 TO CITY HALL
NOTES:
There is no entrance fee for the African Burial Ground
Bring a stool
Be prepared to work in dry materials
A head lamp is a good idea as many of the exhibits are dark.
Bring lunch or purchase it from a local vendor
Please RSVP to Raylie Dunkel at Rayliedunkel1@gmail.com
Looking for us? Call Raylie at 201-273-0445