Weekday Sketchers at Trinity and St Paul's Cemeteries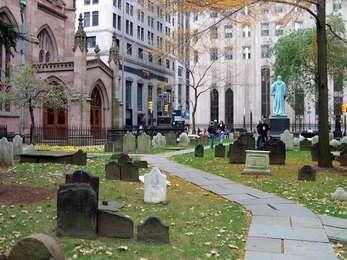 Trinity Church
For the next few weeks, we will be meeting in lower Manhattan to prepare for our winter "
Art Exhibit "Below 14th Street"
Join us this week as we move back in time to Colonial New
York. Come and explore the two (of three) ancient cemeteries in lower Manhattan at Trinity and St. Paul's Churches. Sit in these churchyards and try to imagine when there was a rolling landscape of trees and small houses. Try to erase the giant buildings from the landscape and imagine when this was farmland and animals, not cars, trucks, and busses moved up and down the streets. Come find and sketch Alexander Hamilton's grave, look for the oldest gravestone and enjoy sitting under the beautiful trees that grace these graveyards.
For more information about both churches click here:
https://trinitywallstreet.org\
EXTRA CREDIT: Can you name the third ancient cemetery in lower Manhattan?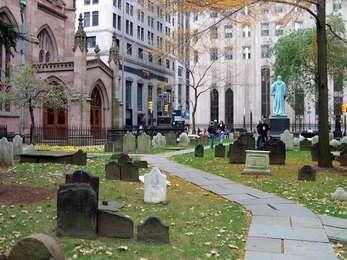 St Paul's Church
DATE: WEDNESDAY JUNE 1, 2022
STARTING LOCATION: TRINITY CHURCH
We will meet in the churchyard on the north side of the church
TRANSPORTATION: 4,5 train to Wall Street
Please RSVP directly to Raylie Dunkel at Rayliedunkel1@gmail.com
Looking for us? Call/text Raylie at 201-273-0445
Bring a stool for capturing the best views
Bathrooms available inside the churches
We will start at Trinity Church. At 12:30 we will move up Broadway to St. Paul's Church for lunch, more sketching, and a show and tell