New Jersey Sketchers at Hudson County Courthouse
Join us this month to explore an architectural treasure that was almost "history" in its own right. Fortunately this building didn't fall to the Robert Moses mentality of demolishing old buildings to make way for parking garages. Vacant and in terrible condition, local residents banded together to save this incredible building. By raising funds to renovate the building and save the historic murals, the community performed a service to us all. Ironically the modern building erected next to it in the 1950s to replace this "old hulk" is now in such disrepair that IT is being torn down and replaced with yet another newer courthouse.
Inside or out, this building will provide multiple sketch sites: the marble exterior, the beautiful skylight, the murals on every wall and the special Howard Pyle murals in the Governor's Room.
For information about the building's history and architecture, click here:
https://evergreene.com/projects/hudson-county-courthouse/
DATE: THURSDAY FEBRUARY 23, 2023
STARTING TIME: 10:30 AM
LOCATION: HUDSON COUNTY COURT HOUSE
595 NEWARK AVENUE, JERSEY CITY NJ
BY CAR: Please check a map program for
direction. There is limited street parking. Local garages are available.
Public Transportation: PATH train to Journal Square. See map below for walking directions from the PATH
Station
From NYC: Take any subway to the PATH. Take the train to either Journal Square or Newark


NOTES
RSVP directly to either Raylie Dunkel at Rayliedunkel1@gmail.com or Margaret Casagrande at margaret.casagrande@gmail.com
Looking for us? Call or text Raylie at 201-273-0445 or Margaret at 646-515-9913
Bring a stool
Water and bathrooms are available in the building
This is a public building. There is no entrance fee
This is a working courthouse. Trails are in session and offices are occupied. Please be aware of the foot traffic in the building. Do not block entrances to offices or courtrooms. Courtrooms are generally open to the public but ask permission before entering.
We will break for lunch and our show and tell outside the building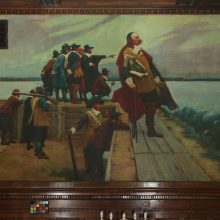 Howard Pyle Murals